Hampi Virupaksha Temple
Saturday, November 08 2008 @ 09:33 AM GMT
Views: 12,898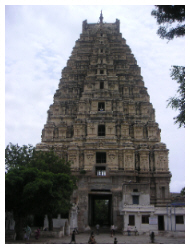 The temple, often called Pampapathi temple, is the most sacred of the temples of this place. Historically speaking, this temple has an uninterrupted history from about the 7th century. The temple contains the shirines of Lord Shiva, Pampa and Bhuvaneshwari. What was once a small shrine, in course of time, developed into a large complex under the Vijayanagara rulers. At present, the main temple consists of a Sanctum, three ante chambers, a pillared hall and a Mukha Mantapa also called Ranga Mantapa or an open pillared hall. A pillared cloister, entrance gateways, courtyards, attendant shrines and other mantapas surround the temple. In 1510 A.D. Krishnadevaraya added the above-mentioned Ranga Mantapa.
The Ranga mantapa consists of 38 pillars, relieved with sculptures. These pillars are divided into two vertical sections - the first is cut to resemble a rearing Yali - a mythical lion, standing on a Makara, while the second section is basically square with small relief, depicting mostly Shaiva themes. These pillars are aesthetically composed and skilfully constructed.
The temple also has some fascinating artifacts like inverted image. Every morning after sunrise, there is a wall behind the temple where the inverted image of the Gopura can be seen. This depicts the technology used in the pin hole camera.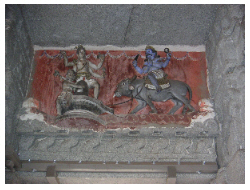 The central ceiling of the Ranga Mantapa is of substantial size. The ceiling as well as the beams supporting the ceilings is covered with painted panels. The panel depicts themes from the Mahabharatha, the Ramayana and the Shiva Puranas as well as from the contemporary life. The temple is also house for Laxmi - the temple elephant and over several hundred monkeys who flock tourists and devotees for their share of the coconuts and fruits offered in the temple.
Starting at the entrance of the temple is Virupaksha Bazaar or market, largest of the many bazaars of Vijayanagara. Each major Temple complex had its own bazaar around which a township developed. This is the only bazaar around which a township of a sort still exists. This bazaar is flanked by the main gopura of Virupaksha temple called Bishtappa's gopura on the one end and the monolithic Nandi at the other end. The 9 storied, 53 meters high gopura adds elegance to the 732 meters long and 28 meters wide Virupaksha Bazaar.
The other temple of significance in this complex is the shrine for Goddess Bhuvaneshwari. This shrine was rebuilt in the Vijayanagara days, over an 11th century temple. This temple is chiefly noted for its marvelously worked door-frame, pillars and articulately chiseled ceiling panels.
How To Reach There
---
This is probably where you would land up when you go to Hampi. The buses to Hampi stop very close to the main street opposite the temple.