Hampi Lakshmi Narasimha Statue
Friday, November 07 2008 @ 09:39 AM GMT
Views: 11,251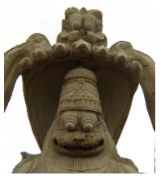 The statue of Lakshmi-Narasimha is also popularly called Ugra Narasimha, meaning Narasimha of terrifying countenance. It is hewn out of a rock in-situ. According to an inscription found here, it was executed in 1528 A.D. during the rule of king Krishnadevaraya. Originally, the icon bore a smaller image of Lakshmi sitting on his lap. This gigantic image, 6.7 meters in height, was mutilated and the figure of Lakshmi was entirely damaged and vandalized in 1565 A.D. Narasimha with an articulately chiseled and well delineated mane and large bulging eyes and broad chest still retains His awesome charm. He is seated on the coils of the snake Adisesha, who rises behind him with seven hoods, which serve as a canopy. The entire image is set within a Makara torana, or arch, with a lion-mask above the hoods of Adisesha.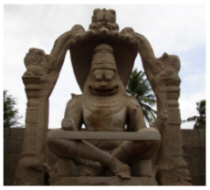 The statue of Lakshmi can now be found at Kamalapura Museum. As mentioned above, the whole statue of Narasimha and Lakshmi was cut in a single boulder. While other kingdoms further southwards used Schist, a soft stone as the medium of their constructions, the Sangamas decided to go in for granite as the building material for their temples. The hard granite was available on the site in plenty and was economic. Granite, being hard, was not suitable for the delicate filigree work that could be carved on Schist. What the artists had to sacrifice on the delicacy of the work was compensated by the massiveness of the sculptures. The statue of Ugra Narasimha is a perfect example of what they achieved in volume which they could not in delicacy.
How To Reach There
---
The Statue is in a field close to the main Hampi-Hospet road. It is located right next to the
Badavi Linga
and a few minutes by walk from the
Balakrishna Temple
and
Uddana Veerabhadra Temple
.