Hampi Kudure Gombe Mantapa
Saturday, December 13 2008 @ 01:03 PM GMT
Views: 4,778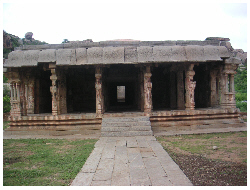 This monument, a few metres to the east of Vijaya Vitthala Temple, facing north gets its name from the structures on the pillars of the temple and not from the deity of the temple. The Garbha Griha of the temple is missing its deity and the roof with sunlight entering the core. It is not very clear from the structure of the temple to deduce whom it was dedicated to.
The temple faces north and is a few metres across the Vijaya Vitthala Temple Pushkarini. The face of the temple has 6 equally carved pillars supporting the temple mantapa. Unlike all the other temples where the boy riding Mythical Yalis adorn the temple's supporting pillars, the two pillars at the front, on either side of the entrance steps have the boys riding horse, known as Kudure in local Kannada language, followed by two pillars with Yalis and the outermost two pillars on the either side of the mantapa being carved into multiple smaller pillars in the middle just like the musical pillars in Vijaya Vitthala Temple.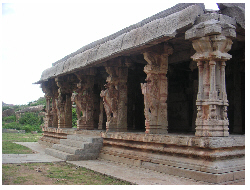 The Pushkarini in front also has its two innermost pillars adorned by horses. The presence of horses in place of Yalis indicates that this temple was probably built by or for the traders of the Vijaya Vitthala Bazaar to worship, especially for those who were probably not allowed in the larger temples due to their caste or occupational restrictions.
How to Reach There: The temple is a few meters to the east of Vijaya Vitthala Temple and the road from the Vitthala Temple passes from right in front of the Kudure Gombe Mantapa. If you are approaching the Vijaya Vitthala Temple from Kamalapura, passing through Talarighatta Gate, you would pass Kudure Gombe Mantapa before reaching the Vijaya Vitthala Temple.