Hampi Kodanda Rama Temple
Friday, October 03 2008 @ 07:05 AM GMT
Views: 9,476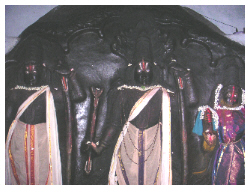 The Kodanda Rama Temple is situated towards the east of Hampi at the end of the Virupaksha Bazaar. A small pathway from Virupaksha Bazaar at the east end leads along the river bank to Kodanda Rama temple. This temple faces Chakrathirtha, the most sacred bathing ghat in the river. In fact, the temple is so close to the river that during the rainy season, Tungabhadra flows over the steps of the temple.
The temple is still in use and is considered a "must visit" for religious pilgrimage in this part of Karnataka. It is believed that Sugriva, the monkey king carved the main deity statues of Rama, Lakshmana and Sita were installed and worshipped here. hence, unlike in other temples dedicated to Lord Rama where Hanuman can be seen seated at Lord Rama's feet, this temple has Sugriva seated there.
Compared to other temples at Hampi, this is of more religious than architectural significance. The spot marks the place where Lord Rama crowned Sugriva as the King of Kishkhinda. The rectangular "Garbha Gruha" of the temple contains about 15 feet tall standing figures of Lord Rama, Sita and Lakshmana. These figures are carved out of a natural boulder. The statues have been worshipped over ages and the fact is quite visible from the fact that the boulder is completely covered in oils used for worshipping.
Lord Rama is in the centre with wife Sita to the left and brother Lakshmana to the right. Both Rama and Lakshmana are holding bows (Kodanda) in their left hands and arrows in their right hands. Hence, the temple gets its name Kodanda Rama Temple. Also, like the Lakshmi Narasimha Statue, Lord Rama, being another avatar of Lord Vishnu, has Adishesha, the seven hooded serpent over his head.
Just behind the temples of Kodanda Rama are the temples for Sudarshana in the shape of a human figure with sixteen hands and Yantrodharaka Anjaneya or Hanuman.
How To Reach There
---
Kodanda Rama Temple is across the hillock at the end of
Virupaksha Bazaar
. It can also be reached from the Vitthala Temple Complex passing through the
King's Balance
.