Hampi Achyuta Raya Temple
Monday, November 24 2008 @ 01:00 AM GMT
Views: 11,104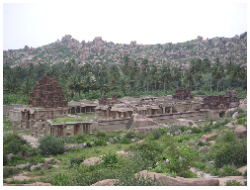 Believed to have been built during King Achyuta Deva Raya (1530-1542) by an officer Salakaraju Tirumaladeva, this temple, though not as large or beautiful as Vitthala Temple, is still a beautiful and sizeable monument. Though dedicated to Thiruvengalanatha or Lord Venkateshwara, the temple is known by the King under whose reign it was built.
Unlike the other temple complexes, this temple complex has two enclosures, each marked by an entrance Gopura. The main temple is situated within the second enclosure. Opposite to the temple is the shrine for Garuda, the celestial bird and the vehicle of Vishnu. To the south west of the temple is a shrine for Devi. Running around the inner courtyard is the pillared cloister. The Kalyana Mantapa is located in the northwestern corner of the outer enclosure. Like all major temple complexes, this temple complex was also provided with a Kalyana Mantapa where the annual marriage ceremony of the deity was conducted. The slender pillars of this Mantapa bear dexterously carved bas relief. The basement of the Kalyana Mantapa is richly decorated with the relief of elephants.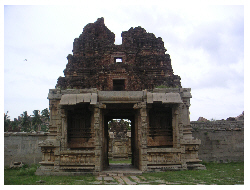 The main deity in the temple is missing and the Garbha Griha (sanctum) of the temple is standing on pillars put in place in the recent past by Archaeology Department to support the dilapidated structure from further deterioration. Very typical of the Vijayanagara Architecture, the temple and the Kalyana Mantapa pillars pose as if being supported by mythical Yalis. The temple pillars also have carvings of tales and episodes from Ramayana and Mahabharata.
Like Virupaksha Temple and Vitthala Temple, Achyuta Raya Temple also has a bazaar starting right at the doorstep of the temple all the way to the Varaha Temple on the northern end. This street is known as Courtesan Street and it is believed that this street was once a very flourishing centre of trade.
How to reach there: Achyuta Raya Temple can be reached either from Kodanda Rama Temple through the Courtesan Street or by crossing the Matanga Hill using the steps beside the Monolithic Nandi (Bull) statue at the opposite end of the Virupaksha Bazaar.